Our Pricing Policy
At Private Doctor Direct we aim to give you the best value for money for the best service available online. We are highly competitive in our pricing and regularly check our prices against all the other similar online healthcare providers. If you see one of the medications that we prescribe elsewhere for a considerably cheaper price then we would advise caution before you think about purchasing it. There are many websites that claim to offer genuine products but which are, in fact, selling counterfeit medications that at best will be ineffective and at worse may contain chemicals which may be detrimental to your health. If you see any of the products or services that we provide at Private Doctor Direct cheaper on any comparable website that provides an identical service (and is properly licensed) then we will match that price with out any quibbling.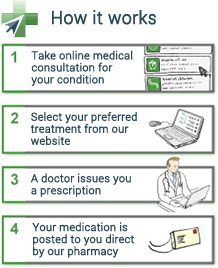 Why people choose us
Registered with the Care Quality Commission
Only GMC registered doctors employed
All medication dispensed by trained pharmacists
Next day delivery as standard
Online price match policy
Minimum Fee
The minimum charge for a private prescription is £29.95. This price doesn't just include the cost of your medication, however, it also includes the cost of the private prescription and the cost of next day delivery to anywhere in the United Kingdom. Obviously medications vary in price considerably, and the price will always be dependent on the cost set by the pharmaceutical company that produces it, the dosage of the medication that you require and the quantities that you order. We will, however, always match the price of any of our online competitors who offer the same service. You can be assured, therefore, that you will always be getting the best service at the best price available.
Price Lists
At Private Doctor Direct we supply so many different products that we cannot list all the prices on this page because of practicality but each product page will detail the price charged for that particular item (inclusive of the private prescription and delivery). We provide discounts for larger quantities of any medication that is required on an ongoing basis and these discounts are available to you in your login area once you register.
What the price includes
The price that you see listed on the Private Doctor Direct site is the price that you will pay. There are no hidden extras or catches.The price includes:
Consultation with a GMC registered doctor
Next day delivery in the UK